Private lessons at KETCH
Obedience
Behavior modifications, real life, canine manners, obedience—any behavior you would like to eliminate such as jumping, chewing, housebreaking, barking, or other behaviors you want to encourage, such as fetching the newspaper, baby preparation, two families joining, behavior changes, introducing another pet and more. KETCH has the solution! We offer logical solutions that dogs understand by using their language. You'll learn how to communicate with your canine companion and learn how your dog reacts to your actions.
Private lessons work on what you want to work on. The possibilities are endless—enjoyable walks, hiking, jogging, traveling, swimming, boating or just a companion when relaxing. We'll custom tailor your private lesson to your needs.
Agility, Flyball and Herding
All dog sports are offered as private lessons or as focus groups where you choose your own group members.
Fresh Beginnings Obedience Class
This fun-filled, educational class is designed for dogs nine weeks old and older. The purpose of this class is to build and improve your human/dog relationship by using positive reinforcement techniques. KETCH uses exciting and fun games that educate the dog by employing his natural instincts to our advantage. You will learn about your dog's behavior as well as proper dog care and handling techniques. You will learn to shape your dog's behavior by breaking big tasks into smaller ones. Socialization is very important to our canine friends and social etiquette in public is important to us. We want you to gain control of your dog through positive management; before your dog gains control of you! KETCH.'s instructors will show you the correct use of toys and treats in training, as well as teach you to reinforce positive behavior. (We believe in preventative behavior modification.) We will address issues like housebreaking, chewing, barking, running away, mouthing, door running, jumping, pulling, chasing and more. KETCH's "Fresh Beginnings" will help you teach your dog to sit, down, come when called, wait, drop it, give, leave it, stay, loose leash walking, off and games.
This class is an hour-long class, one day per week for six weeks. Register early; class size is limited, as we want our instructors to maximize the time spent with each student to ensure that you and your dog receive the best education possible. Start your four-legged friend off on the right paw—enroll now. Train, don't complain!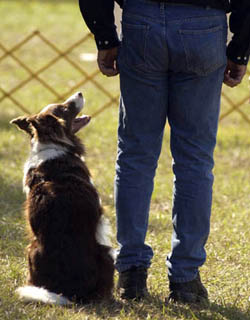 K-9 Manners
This class is designed to improve your canine relationship while proofing your obedience commands with distractions, such as wheelchairs, other dogs, noises, and more. The class allows for owners to relax and enjoy the interactions with other people. With the skills taught in the class, your dog can earn their Canine Good Citizen, an official certificate from the American Kennel Club. A trained dog is a happy dog, register now! The K-9 Manners class is six weeks long. "Fresh Beginning" obedience class is highly recommended before enrolling in K-9 Manners.
Super Dog 
This class is the ultimate challenge to unleash your dog's hidden potential. Super Dog prepares your dog for the unexpected, giving you functional obedience including off leash recalls and walking with distractions. Super Dog class continues to improve your communication skills with your dog using tricks as education. All of this is accomplished in a relaxed atmosphere, which includes socializing with our canine and human friends.
Super Dog is held one day per week for six weeks and your dog must have completed KETCH's K-9 Manners class prior to beginning Super Dog. After completing this class dogs are welcome to drop in on this classes for their entire life for a very reasonable fee.
Expected Behavior Class 
A one-time class to address behaviors that are expected, such as not pulling on the leash, no jumping on people, excessive barking and other daily actions. This class is approximately two hours and no treats are needed. **No aggression allowed (we recommend a private lesson for aggression issues). This is a great class to take before the holidays! There will be limited registration openings available, please download the Class Registration and Behavior Fact Sheet on our Forms page.